FAQ (before order)
FAQ (before order)
1.Which kind of insert is more absorbent?
The 5 layer microfiber bamboo blend inset or 5 layer microfiber charcoal bamboo blend inset is the most absorbent for the moment. It will be a good choice for heavy wetters.
2.Can I mix different designs?
For multi-pack links, you can mix different designs. But some diapers may with different price. For those with different price, you need to pay for the price difference.
If you buy the combo products, like 20pcs pure diapers with 20pcs inserts, you can choose from B series; or if you order 20pcs colorful diapers with 20pcs inserts, you can choose the color from A D E F G H I J P M N Y series. You can leave message for what color or pattern you like on the

"Spection Instruction"

when you checkout, Or email us the Order Number and Pattern Choice at sales[email protected], then we will send the items out as your request.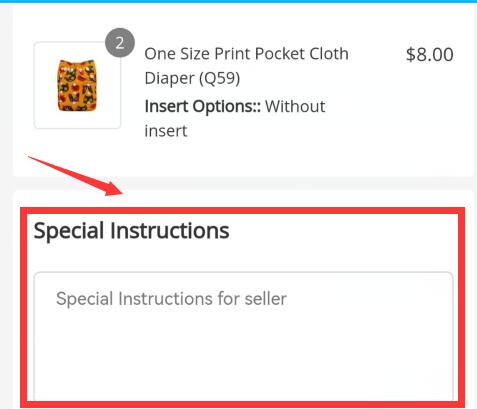 3.Can you declare $XXX for my order to avoid import taxes?
"I am in [COUNTRY]. If the order is declared over USD [TAX THRESHOLD] then I will be painfully taxed. Can you help me by declaring the goods at [VERY LOW VALUE]?"
First, we will do our best to help you with import regulations.
If you have special instructions for the waybill and invoice declaration on your orders, you need to tell us the instructions every time you order.
4.If order a lot more, can i get a discount?
Of course, we can get better prices for large orders.
If you are interested in wholesale or large quantity of items, please contact us with the following details:
- The products you want
- The exact desired order quantity
With this information we will get back to you with a quotation.
5.What are the difference between series A and other series?
Series B includes all the one size plain diapers.
Series A-, H-, J-, M-, N-, Q-, S-, YA- are one size printed diapers.
There is no difference between them except for their patterns.
Series C includes all diapers with double gusset and colored snaps, that is 4.0(AI2).
The rest are bamboo, newborn and big size diapers.
6.Can I use my own logo? Can I do my own designs?
Yes, we can.
The fee of making your own logo is $50USD, and you need not to pay when re-ordering.
It takes about 5 to 7 days to make a sample first for your confirmation and another 5 to 7 days to make cloth samples after you have confirmed.



*We can make diapers according to your own designs.


If you order the colors or prints we have and just change the diaper designs like wings, snaps, inner or any other parts, MOQ is 300pcs, at least 30pcs per color/design.

If you want to do your own color or print, the MOQ is 100pcs per color/print. We will make PUL cloth sample first for your confirmation. (If need to make sewn sample, the fee is $5 of each) . Usually it takes 3 to 7 days to make a sample and 3 to 6 weeks to finish a custom order.
7.How much of everything do I need to buy to get started?
Your answers to these questions will greatly determine how much and of what type of diapers you need. Give some thought to your goals before shopping.
(1)For cloth diapering a 2 months old baby and washing diapers every 2 days:
*2 Rubbish bags
*1 diaper pail/trash can
*2 diaper wet/dry bag
*10 rolls of flushable liners
*2 dozen inserts
*6 pocket diapers
(2)If you used to cloth diaper 2 children at the same time (who could wear the same size) and washed every 1, 1/2 days:
*3 dozen inserts
*10 pocket diapers
*2 pail liners, 2 diaper wet/dry bags
*Flushable Liners (probably around 20)
This was the bare minimum for diapering both babies at the same time. More covers and pockets would have been good, as well as extra inserts for the pockets.
8.
What about the poop?
Flushable liners will make your cloth diapering routine VERY easy. You simply lay the liner on the inside of the diaper.
When baby poops, you lift out the liner, with the mess inside, and flush it down the toilet. Some folks prefer to use washable inserts for poop patrol instead, or to go the no-liner route by shaking solids into the toilet and rinsing out the diaper before putting it in a wet bag or pail.